TheRktmn
Original Curbster



Joined: 22 Jun 2005
Age: 56
Posts: 7937
Location: TX, USA

1969 Mercury Cougar XR7
Posted: Tue Dec 06, 2016 3:45 pm

Post subject: mo2872: Mo's "Mini" front loader project
---
mo2872:



Some of you have heard me talking about doing this Curbside.....well, here it is, the start! Looking pretty good, IMO!

Received my 48" bucket from CTC in good shape, in 4 pieces, cutting bar, two end caps, and the folded portion of the bucket. Spent a good deal of time yesterday in the shop, stitching it together. Note to others looking at doing some extensive welding: CHECK YOUR SPOOL!!!! Had to make an impromptu run to the store for another spool of wire! Whoops!
Enjoy the pics!

Bucket:



Mocked up the brackets/arms out of hard-board first. Much cheaper to screw up with that, and with a 4x8 sheet, much more scrap to re-do with! Looking pretty good, I think....:



Pleased so far, think this will be a pretty handy tool to have around, and, I've made the bracket in a way to still be able to have the deck in place!

Only thing I'm NOT pleased with so far, is my lack of a gas bottle and regulator. Splatter all over the place on the bucket. Oh well, it's stuck good.



Yes, it will have a lift cylinder, and a curl cylinder for the bucket, just like a full-size loader, only single cylinders for each, instead of doubles.....and quite a bit smaller! That'll be easier to plumb, anyway!

Yup, diesel, the only way to mow.....Yanmar 3 cylinder, 22 horse. Bought it in 2005, ten years old, and only 325 hours on the clock. Wife gives me the evil-eye when I talk about trading it, she loves it. It has 4 wheel steering, so it's almost as manueverable as a zero-turn. That same 4WS is why I can't put a full size JD loader on it. Some of the bracketry for the JD loader goes under the belly, and interferes with the AWS linkage.

So I've had a great three days worth of lunch-breaks at my father-in-laws machine shop, cutting out the metal forms. Well, other than him grinching that "you owe me at least 3 new band saw blades for this!!!"......so I ask why three, if I'm only dulling 1?? His answer, "You still owe me for letting you marry my daughter!!!!"
.....wise-guy.
(Actually couldn't ask for better in-laws.....we have a good time together!)

Pics! We all love pics!

Rough-cut pieces put in place for "how'm I doin' " progress check......after making the mount holes in the uprights, and clamping on the arms:



You'll notice in that second picture, I took out the "swoop" on the front of the uprights.....mainly because I was tired of cutting, but also because I think it's unnecessary, other than aesthetics(it DOES look better curved.....so it may get it yet).

After locating and drilling the holes in the arms:




Something I didn't think of before determining the upright height......opening the HOOD!!! I can still pop it forward, and get it out of the slots in the dash, but can't lift it very high. It's good enough to check/add oil, but in hindsight, a little shorter uprights would have been good. However, I wanted a touch more lift height than the loader I'm modelling, so, I'll sacrifice the hood opening fully.

Pondering the cylinder selection today, I came to the realization that I may need to add another cross tube closer to the bucket, since my arms are longer than the model. I'm thinking that will be OK, as it would just add that much more "anti-racking" stiffness to the whole works. (Put 2 cross bars between the uprights, and 2 between the arms, rather than 1 on the arms, and 2 on the uprights.)

OH! Father in law also got the saw table-travel working! MUCH easier cutting when the piece doesn't have to be "pushed". I DID ask him today why he didn't have them done for me yet!

Anyway, hope you're all enjoying the progress, I know I am! [hr]
Things left to make:

Cross bars, two between the uprights, two between the arms.

Cylinder mount tabs, 8 total, 4 for each cylinder.

Arm mount tabs, 4, for where the arms mount to the bucket.

"Gussets", to stiffen the arms, between the upper arm cross bar, and wherever I put the other cross bar.

Can't wait to get this thing in action!

Spent the afternoon with the FIL, first and foremost to rough out the PWD car, then to carry on with the loader. Finished cutting, bolted together, and ran them through his grinder in pairs to make them "same-same"........

Brackets: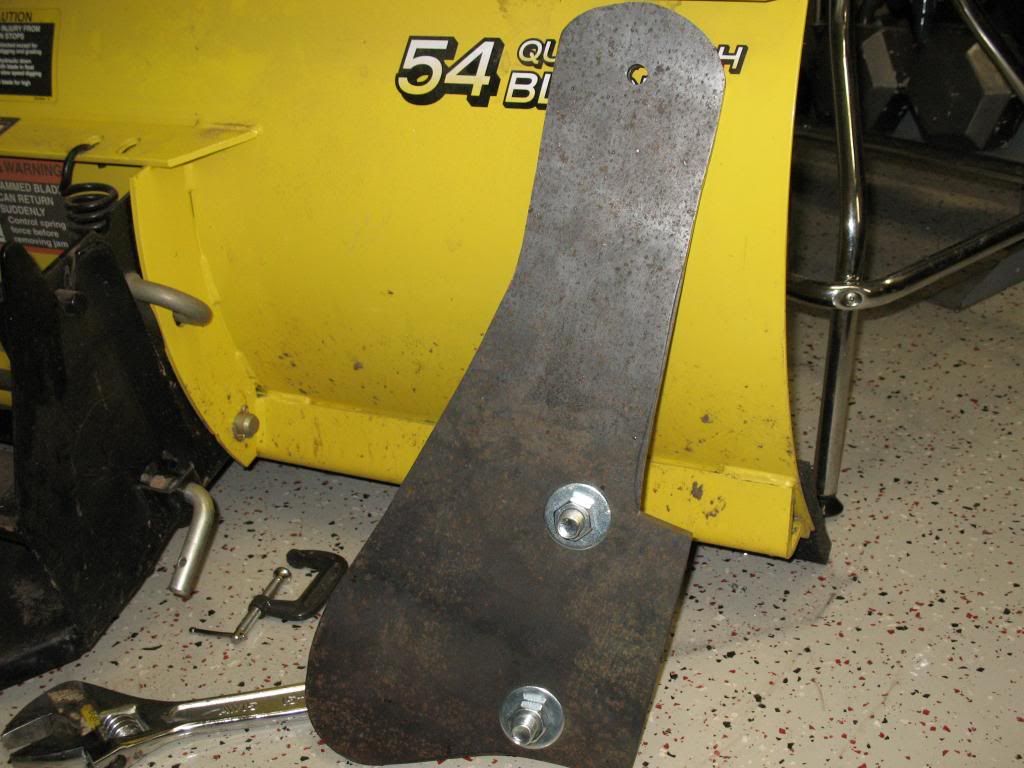 Arms:



If nothing else, it's going to LOOK good! Also made two of the cross braces, that would be the rusty looking pipe in the background!

Oh, and also scored his "old" band saw! Not near as fancy as the one we were using, but at Free.99, I won't complain......will take pics of it when I get it home.


Got the upright bracket all welded up last night, and the spring-pins attached. Sorry, the pic is from the blackblurry, camera card was in the house, and I didn't want to go in and get it. Looks better now that the residue is brushed off, too.....




Not quite "done" yet, but FUNCTIONAL!!!!!




SUCCESS!!!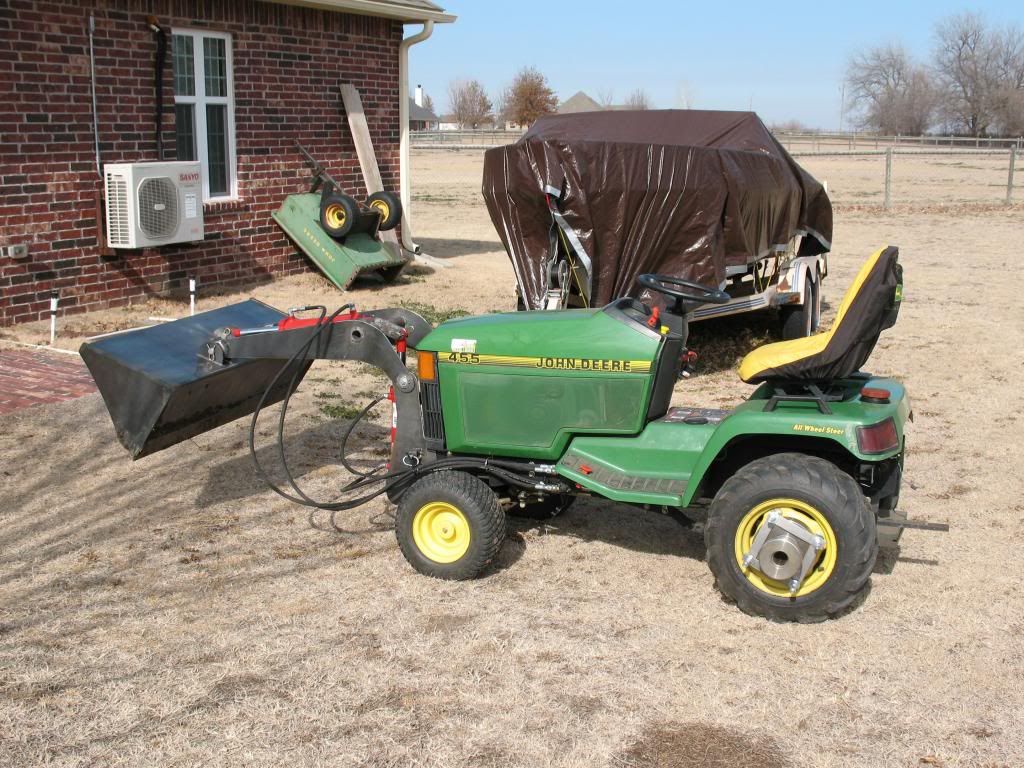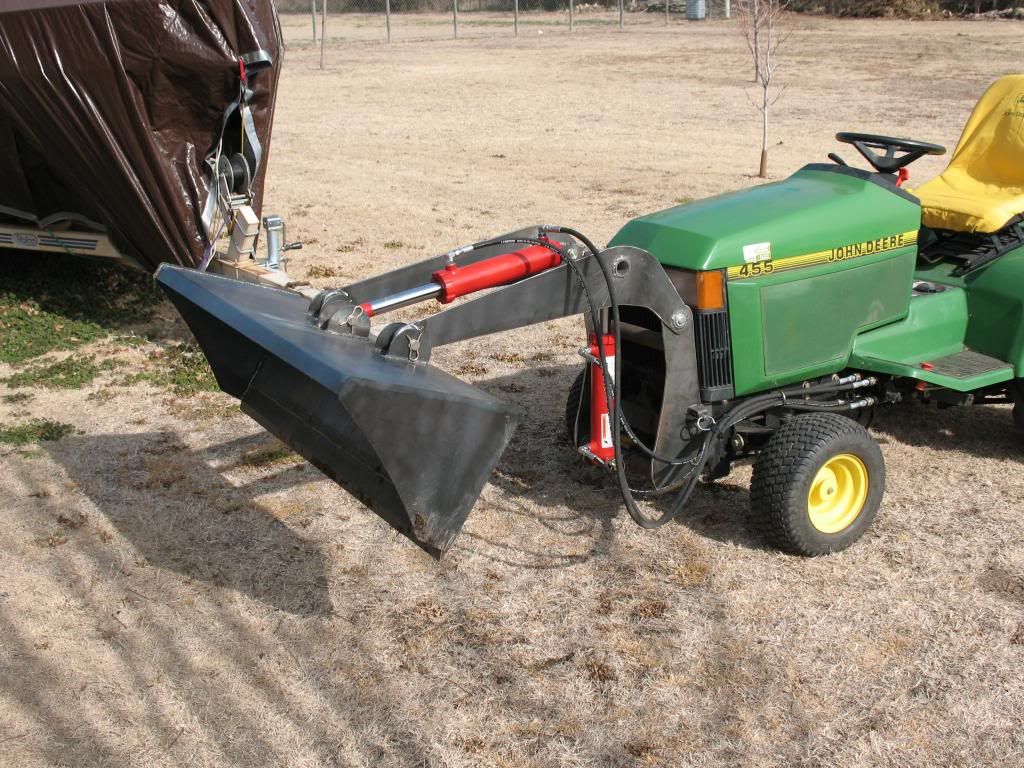 And just checking.....

, HAD to see if it would lift the tires, right?? Need to make some spacers for where the arms attach to the bucket, and some brackets from the pipe down the arms a ways. Think this summer while it's off, I'll re-do the curl bracket. Not quite the right angle to provide the needed leverage to tilt it back up from full-dump.

Turned the compost pile over with it as-is, and, I'm tickled!


Wow, what a difference in rigidity those braces makes!



Fabbed and welded them in, and went "testing" again. Wow. This is going to be one handy little piece of equipment. May not even "need" the blade anymore.......[hr]
[quote='Local Hero' pid='1072' dateline='1359343487']
Neato!! What's the operator controls look like?
[/quote]

In pic 3 on post #11, you can just see one of the black levers under the steering wheel. Tractor has two of these, one for lift, one for curl, or if using the blade, one for lift, one for angle.



A little update on "useage".....BROKE MY BRACKET/WELD for the lift cylinder AGAIN! GAAAH!!! On top of that, I'm waiting on a piece for my welder to arrive, so I did the Chinese fire drill, and hit up my brother in law to borrow his welder. Ran and got that. Got home, and decided the brackets I'd made didn't have enough meat to do the job. So, I'm looking around the shop for "what do I have laying around"...and I stumbled across a receiver hitch bracket that I was going to make a weight bracket out of. Hmmm.

A little sawing and drilling, and it's PERFECT for the job. And, I even managed to lay down a decent bead on the welds with BIL's borrowed welder. Just me, or does a "quality" welder make that big of a difference? His is a Lincoln 140, mine is a Clarke 140, but his has one more heat setting than mine, so I upped it to that one. Maybe that was the difference.




So, it's all fixed, and the dirt is now where it belongs! Thinking I might see if I can find a 3" receiver piece to re-do the curl bracket with, now.

All right, we have paint! Just a quick rattle can job, but, hey it's a loader, it's going to get beat up!




Also made another hose hanger out of some wire/rod I had on hand. Think I'll make another to go on the lift arms, just to get the hoses up out of the way.

Finished up the new curl cylinder mount tonight, except for paint. NO issues curling, then retracting to "up" with the new angle of the cylinder. VERY pleased! Next up, another coat of satin black for the frame, and a re-paint of the cylinders to JD green! LOVE me a mini-loader!!!!!

(Went to local dealer today to pick up a home mx kit, and new caps for the loader plugs, showed pics to the counter guys......suitably impressed!)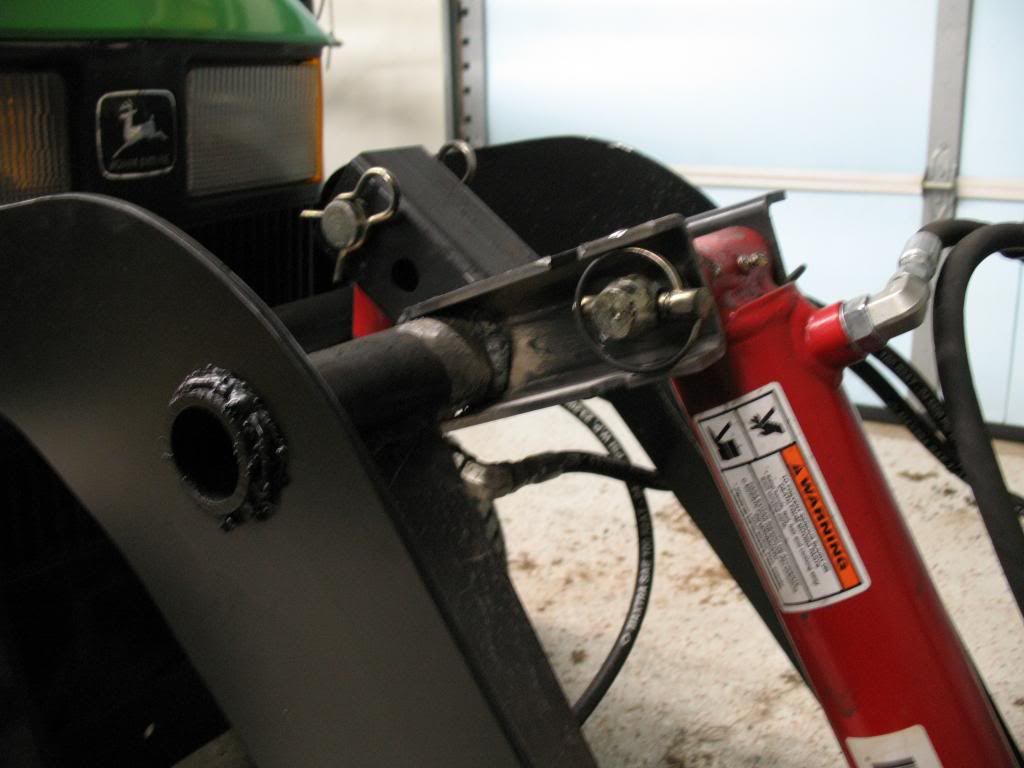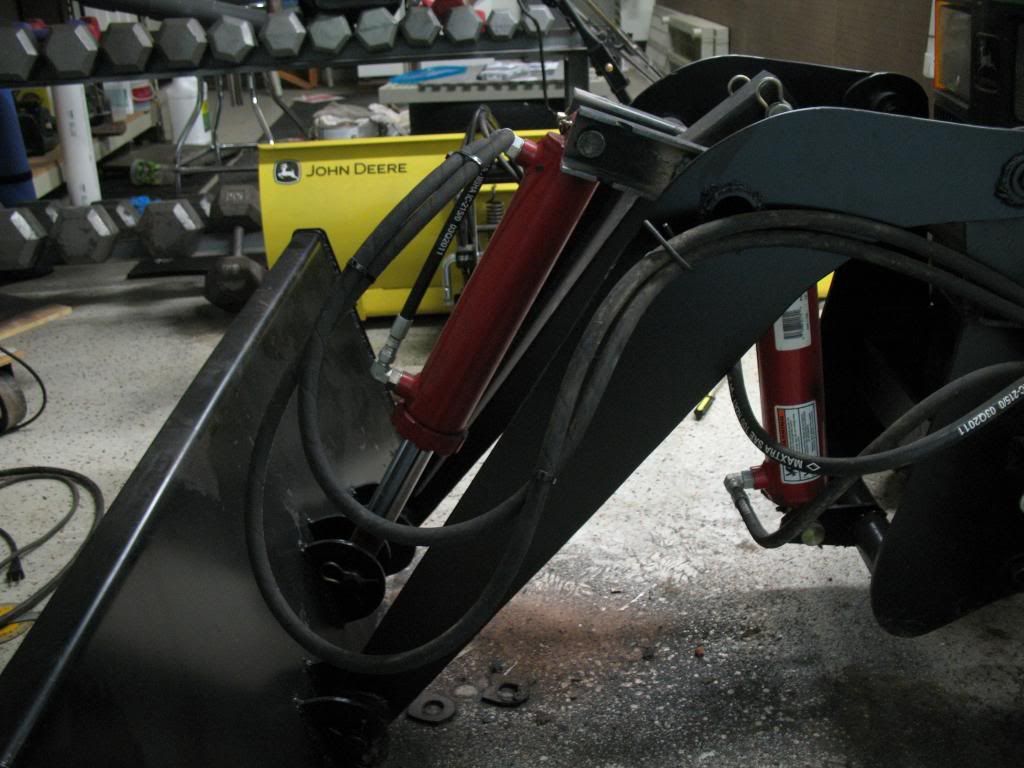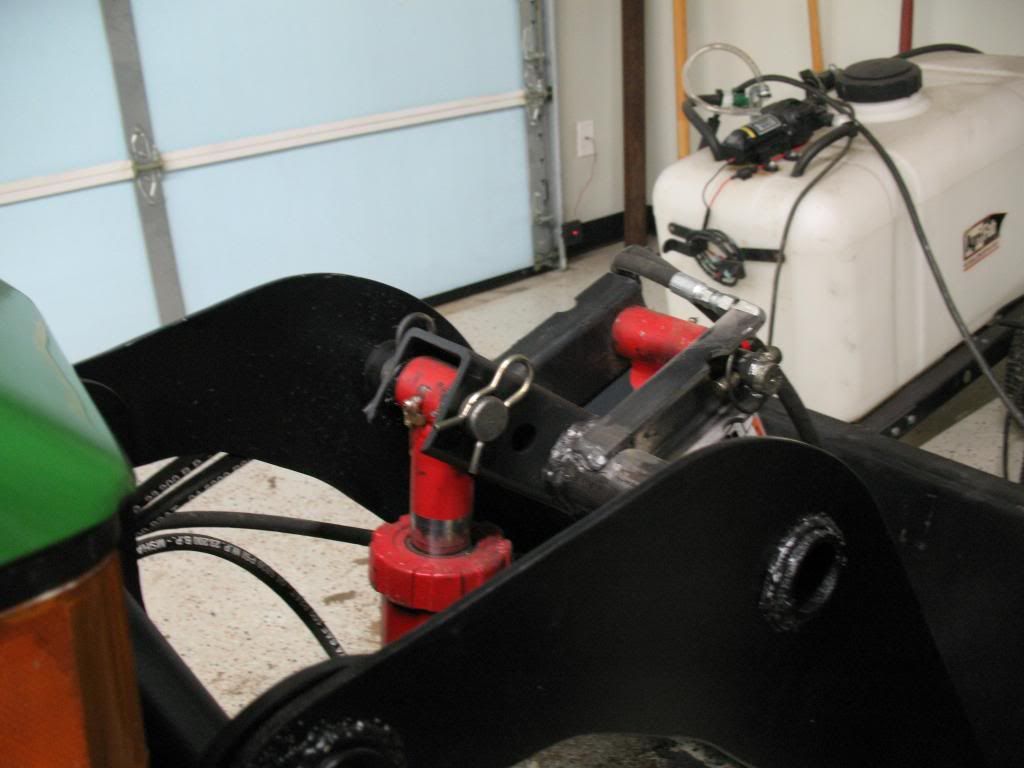 Oh, and seems I made much ado about nothing with the being able to open the hood issue......opens just fine!



Took the panels off to perform Spring maintenance, and managed to break off a whole tab, + more on the R/H side engine cover. Guess I'll be shopping some more!